Offline Access
Latitude 365 is a stand-alone application that allows to work fully offline and then seamlessly share information with other users via secure synchronization with an onshore server.

Real-time Budget Tracking
See budgets and account balances updated in real time, and manage expenses more effectively as a team - onboard and in the office.

Quote & Invoice Approvals
Track quote and invoice approvals, see when invoices are paid and mark items received.
The only secure way to share information in real time


Complete Solution
Our yacht management software is focused on managing yacht finances. For that reason when it comes to yacht accounting we are able to provide the most complete solution on the market.

Bank-Level Security
Latitude 365 is a downloadable application that syncronizes with the server on demand. It is not browser-based and all data that is transmitted to the server in short periods of time is encrypted.

Outstanding Support
We really care. A lot. We are there when you need us - days, nights and weekends. We know our product and understand your process.
SUPERYACHTS.COM - "Latitude 365: A Closer Look at a Financial Revolution"
By SUPERYACHTS.COM (18 October 2016)
It's a truth universally acknowledged that managing expenses of a superyacht is similar to running a business. Yet, unlike any business, the luxury vessels have their very unique specifics making most commercial tools not suited for the purpose. We speak to Dasha Grupman - an entrepreneur bringing a much needed solution specific for superyacht financial management.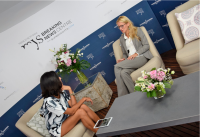 "When it comes to providing a financial software for yacht management there are several key aspects to keep in mind", says Dasha Grupman. "First of all, such software has to be very easy to use as most crew do not have formal accounting training. Second, any yacht software needs to connect multiple parties, both onboard and in the office, while still allowing to work offline without having to rely on unstable internet connection onboard."
To accommodate simplicity and offline access requirements onboard before Latitude 365 appeared most superyacht management structures had to rely on tools like Excel or personal finance application Quicken to account for millions of euros in operating costs each year.
Besides leaving plenty of room for human error tools like Excel and Quicken provide very limited options for multiple parties to collaborate and manage expenses as a team onboard and ashore. As a result, information between the office and the boat is exchanged only once a month when accounting reports are prepared. This means that nor the crew, nor the office have a complete picture about the current state of the yacht's finances at any point in time.
Dasha Grupman took on a challenge to change this with the software she originally created to manage luxury assets for a prominent hedge-fund manager in New York. "When I joined the family office and took over financial management of the assets I first attempted using Excel", says Dasha Grupman. "I quickly realized that spreadsheets are not only time-consuming but also rather dangerous. Even the most detail oriented person cannot safeguard from making an accidental error that can result in a sizable cost for the owner".
By now the software Dasha Grupman created replaced outdated systems onboard of more than 150 superyachts worldwide. Management companies such as Burgess and Fraser Yachts realized the benefits of the workgroup management system offering a tool for true financial management, not just accounting at the end of the month.
As Latitude 365 gains acceptance as the standard in the superyacht management more and more owners choose to use its interface to review financial reports for their boats. "Most owners do not actually log in on a monthly basis. I believe what attracts them is the fact that they can personally find any detail for any number including an attached copy of the receipt at any point in time", says Dasha Grupman. "Such transparency gives the owners more control as the crew knows they are watching"
Watch the full interview with Dasha Grupman at the Breaking News Centre during the Monaco Yacht Show to find out more.
SUPERYACHT Times - "Latitude 365 software transforming superyacht financial management"
By SUPERYACHT Times (22 December 2015)
Latitude 365 is the first accounting software built specifically for superyacht Captains, Owners and Yacht Management Companies. It connects users onboard and in the office via secure synchronisation with an onshore server while allowing to work fully offline. As of today more than 100 yachts ranging from 20 to 150+ metres have chosen Latitude 365 for its simplicity, robust multi-currency reporting and expense approvals system.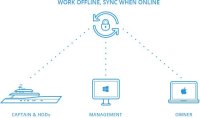 Unlike Quicken or any other accounting package, Latitude 365 is a yacht management software that allows captains, heads of departments and office managers to work together and manage expenses as a team. That ability to seamlessly share information and track budgets in real time allows for true financial management, not just accounting at the end of the month.
Unique synchronisation process, bank-level encryption and not being accessible from the web like cloud-based software make Latitude 365 the only secure way to seamlessly share sensitive financial information. In addition, the program is fully customisable to accommodate each yacht's unique requirements: from custom expense categories, currencies and accounts to user access levels and permissions.
A testament to the functionality and need for the Latitude 365, current client Fraser Yachts - who adopted the software in 2015 – states: "We compared Latitude 365 to other commercial and industry-specific software that have financial modules. After a testing period we selected Latitude 365 as it is a multi-user software that provides what we need for our processes while allowing full offline access. The software is easy to use for the crew and synchronises data securely between the users."
Expanding on this as well as talking of the advantages and logicality of using this yacht management software, the brand's CEO, Dasha Grupman, says, "An average yacht is incurring two to three million a year in expenses that is comparable to a medium size business. No business with such turnover would consider using Excel or personal finance software like Quicken (a program that is currently used on most yachts) to account for such sizeable expenditures."
"As yacht accounting has its very particular specifics and historically there was no tool that allowed to accommodate those specifics the industry used what it could make fit. Latitude 365 is rapidly changing that with a tool built specifically for the yacht process."
SUPERYACHTNEWS - "The future of yacht management software"
By SUPERYACHTNEWS (14 December 2016)
During the captain's workshop at the Global Superyacht Forum this year, a question was raised regarding what the industry can improve when it comes to yacht management software. One of the answers received from a captain was that it would be incredibly valuable to have one software package to cover all areas of yacht management.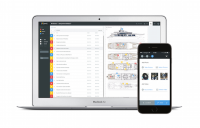 In response to this, Dasha Grupman of Latitude 365 points out that, from a software provider's perspective, building one software package to cover all areas well is not realistic in a small, niche market. "It would either be too costly or too general," she explains. "Our success in the yacht accounting area is largely attribute to staying focused and delivering a complete solution for yachts from a financial management standpoint."
However, Grupman can see why the captains and management companies would want to have one software covering all areas. "There are so many various software packages coming on the market that it is becoming more and more difficult for the captain to choose and make the best decision," she continues. "As a result, we have had several conversations with fellow yacht management software companies about creating partnerships among non-competing software providers to integrate with each other and deliver that all-in-one solution that seems to be in demand in the industry."
THE SUPERYACHT REPORT - "Keep it Simple"
By The Superyacht Report (April 2013)
"The most important feature of Latitude 365 is its, shall we say, crew-proof simplicity. It's so easy to figure out and start using that I would expect every spreasheet-averse crewmember in the fleet could file monthly reports to the owner or manager after less than an hour's introduction."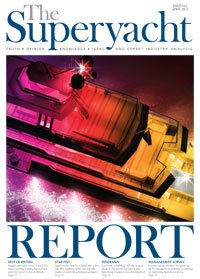 Dasha Grupman's yacht management software – known as Latitude 365 – aims to solve the significant accounting headaches that captains face essentially every day: tracking receipts, submitting quotes and invoices for approval, providing reports to show the costs of various departments and tracking budgets.
I'd seen Grupman's pitch and started to wonder about the problem of accounting for superyachts. Her yacht management software clearly seemed to be filling a perceived need. After all, I presumed that, like me, most yacht crew had gotten into the life of sailing to avoid things like spreadsheets. Accounting – with no offense intended to accountants – is pretty much the opposite of sailing. So how, with all of today's reporting requirements and need for fiscal transparency, are captains and managers coping?
Any commercial software I have used for tabulating sums and building some kind of report was bafflingly over-spec'd. They're almost always made to be too powerful, and inevitably offer tools, templates and functions that I would never need.
Y.CO were early adopters when it came to engaging with Latitude 365. "The last piece of the puzzle for us in our ongoing development of Y.CO Live is the accounting package," Charlie Birkett of Y.CO told me. "We met with Dasha and brought Latitude in for an initial test. It certainly ticks a lot of the boxes. We're watching it very closely."
Clive Dixon, senior partner with the chartered accountants and business advisors Moore Stephens in the Isle of Man, sees the issue of accounting as a universal challenge that isn't any different for yachts from other business:
"Multi-currency is important given the mobility of yachts from one country or jurisdiction to another and the tendency to use suppliers from a variety of jurisdictions," Dixon said. "A robust chart of accounts is also a must-have to ensure expenditure is captured under appropriate headings with an appropriate level of detail. Flexibility is key and this very much depends on what information the owner or other stakeholder wants to see. Overall, Latitude 365 is versatile, which is important because yacht clients often have their own specific preferences as to presentation of information."
With Latitude 365, Grupman and her partner have taken a superyacht-specific approach (although the software is equally well suited to managing private residences). Clients don't need to lay out enormous sums for custom yacht management software development, and they don't need to hire a developer to customize existing software. It's been developed and tested based on the needs and feedback of those on the front lines of the industry.
Latitude 365 uses a dashboard-like interface that foregoes flashy colors or complex tables. At a glance, users see the state of the yacht's accounts (the main holding account, cash, captain's account, chief stew's, etc.). As one of the key purposes of the yacht management software is to track outstanding bills and invoices and requests for expense approvals, these functions are front and center. Every user has access set at the appropriate level (as determined during the initial consultancy and build) and can track their own requests and requirements.
Key to the functionality of this yacht management software for superyachts is the SYNC feature. It allows users to work offline and synchronize to a land-based server when internet connection becomes available. Will Kaye, former manager and captain of M/Y Big Aron, thinks the sync feature is a game-changer for captains. "At the moment, heads of department send me their Quicken files and I have to import them into mine. Latitude's process makes this a lot easier. They'd import the receipts themselves, and it would be there for me, the owner or other managers to view. It saves us all this extra process."
Latitude 365's clients can use the company's servers in the US or Germany (all SSL-encrypted) or have this yacht management software installed on their private server wherever in the world they prefer. In any case, the on-board software syncs and keeps the data current across all platforms.
A 'reports' tab brings the user to a page of options, like a tool bag of simple yet sophisticated accounting toys that lets users produce understandable reports. Users can produce monthly summaries or generate a detailed view of all the incomings and outgoings. There's an option to see a report of expenses by supplier, so captains can quickly assess where funds are headed (food, telecommunications, fuel, transport, etc.) and when invoices are paid. There is also a historical summary function, a clever means for captains and managers to show their owners how funds have been disbursed over a season, a year or the lifetime of the yacht.
There's also a custom report capability, which gives the captain or manager the ability to hand over clear snapshots on any aspect of the yacht's spending. "To do something like this in Excel takes a long time," Grupman pointed out. "Excel reports calculate item by item down incredibly long spreadsheets. You have to find the categories and calculate the results… I used to do it manually and it took hours. No matter how careful I was, it was almost impossible not to make a mistake once in a while."
"What struck me when going through it was the fact that every little bit of functionality of the system was something I need and use and like," Captain Will Kaye said, "and there was nothing else. It was just all there. It seems to be very well thought out in terms of what we in this industry need to use."
With the ability to export all its data to Excel, this yacht management software works ver well in conjunction with a family office or yacht management company's existing systems.
Yacht management software is a tough market. Each owner, manager and captain wants to do their accounts their own way, so Grupman has a major campaign on her hands to persuade the industry that Latitude 365 is easy, effective and better than what's currently available. She has received great feedback so far. If this is what innovation looks like for our industry, bring it on.
The Cure for the Accounting Hangover
YACHTS INTERNATIONAL – Story by Captain Adrian Gordyn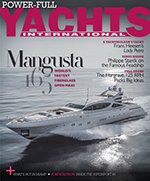 Paperwork is probably the worst part of my job as a captain. I did not enter this industry to do endless reports and balance budgets. If that were what I wanted to do I would have become an accountant.
By nature, captains and crew are adventurous, outgoing, handson people that love to stand back and see the beauty of our work – whether it is in the smiles and appreciation of the owner or guest, or the glinting sun off a beautifully polished yacht.
I understand that paperwork is a large part of my responsibility and I accept it. Nonetheless, if asked to repair a split black water hose, I will happily jump away from balancing the budget and writing monthly financial reports. I leave these tasks to the end of the day hoping upon hope that I am called away to do something else, anything else – attend to an emergency or any other ever present challenge on the yacht.
At the end of the day I am sitting in the marina looking across the other yachts at 11 o'clock at night and what do I see? Four other boats with light on the bridge and their captains hunched over computers going through receipts. They don't look happy either.
At dawn with coffee in hand, I wander around the marina before any other crew or guests are out. When I meet the captains I saw last night, I question them about what they were doing last night on the bridge. I hope to hear about passage plans or itineraries or even an email to a loved one. No, they all were crunching numbers! And now all of us seem to be suffering from an accounting hangover. What a horrible way to start a day.
There are many programs out there that promise it will be easier for you to balance your accounts and come up with great looking, easytounderstand reports. I have tried many of them over the years with the same frustrating results. I thought my frustration would be something I would have to live with, until I met an angel at FLIBS this year.
The angel spoke my language, understood my troubles and went through accounting hangovers as well. She told me that oneday she got tired of those daunting evenings and went on a mission to find a better way. When she couldn't find one, she created an accounting program herself.
You can imagine how skeptical I was. But she persuaded me to take Latitude for a free trial run.
There was nothing I needed to learn or figure out. It was very straightforward – here is data entry, here are reports and here is where I track budget. All I need and no BS. It was so easy to use that I decided to let the chief stew have a go at the program as well. She was entering her receipts in no time.
The best moment came when I sent my monthend reports to the boss. Instead of the regular emails with questionsabout charges and details, I got a call asking "who did this for you?!" I can't blame him — instead of the usual long spreadsheet he suddenly received a collection of easytoread reports with colorcoded chart on each page.
Now I'm that one captain at 11 o'clock on my bridge with a smile on my face, writing this article instead of reports and accounts. I'm writing this to help my fellow captains and hoping it will save a few more of you out there from yet another accounting hangover.
For more information and a product demonstration, visit latitude365.com
Editor's note: Captain Gordyn submitted this article. The site above includes a free demo and trial. Cost is advertised as starting from 50 euros per month.
Scanning Receipts
Scanning piles of receipts with the regular flat-bed scanner is time consuming, to say the least!
And so is having to glue those to an A4 piece of paper.
Grocery store receipts tend to be too long for any regular scanner, other receipts are different in size.
Yet there is a way to handle this in a simple way and scan each receipt within 3 seconds!
The secret is in using the right inexpensive tool.
---